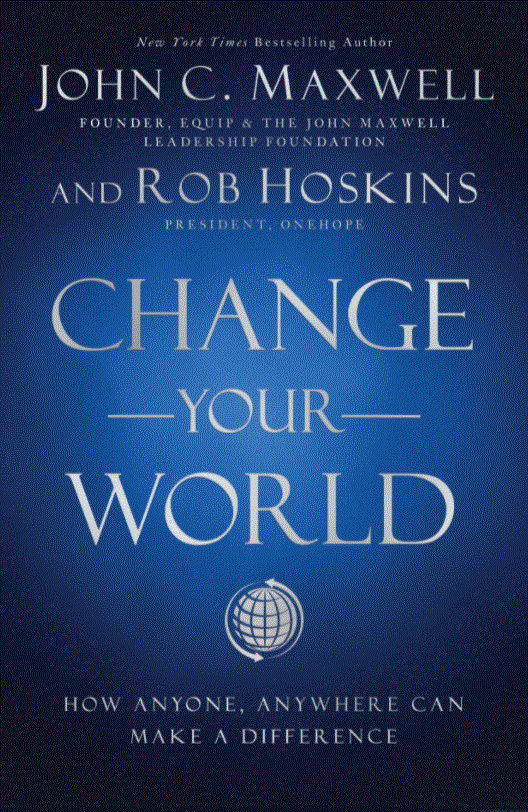 Have you ever felt like you're not living up to your full potential? That you have unique gifts to contribute to the world, but you have no idea where to even begin? We all have the potential to make a difference, but we get overwhelmed by the immensity of the world's social problems and end up doing nothing at all.
In the book - 'Change Your World. How Anyone, Anywhere Can Make A Difference', by John C. Maxwell and Rob Hoskins, published in 2021; they will show you how to move from good intentions to taking action. You'll discover how to identify a meaningful cause, recruit a good team, and communicate powerfully. Most importantly, you'll learn that all profound transformation comes from within. If you're living according to your values, you'll make a positive impact on the people around you, and change the world.
The three most powerful points I took from the book were;
In order to change the world, you need to become courageously hopeful. Become a catalyst for change by starting with small actions.

Passion isn't enough to create a sustainable movement for change – you need clear goals and good leadership. To change the world, you also need to live by good values.

The fastest way to create change is through transformational conversations.


In order to change the world, you need to become courageously hopeful.
Open up any newspaper, and you'll be bombarded with terrible news about the world. Hundreds of thousands of deaths due to coronavirus, wildfires ravaging countries, people losing their jobs and homes – the list continues. Reading that kind of news can make you want to throw up your hands in despair. But you can't afford to get demoralized or wait for other people to solve the world's problems. If you really want to change the world, you have to start thinking about how you can become a unique part of the solution.
We place artificial limits on ourselves when we buy into the belief that we can't change the world. So the first step in becoming part of the solution is changing this mindset. We need to challenge our own hidden assumptions and pessimistic beliefs. You should replace your pessimistic views with the belief that you can make a difference. Sure, you may not be able to solve world hunger in one fell swoop, but you can make a valuable contribution.
Bryan Jarrett had every reason to be cynical and despairing about the world. Abandoned by his father, he was a victim of sexual abuse as a child. He spent his teens drinking and trying to numb the pain, but over the years, something changed. He realized that he had the opportunity to help youths in the same position he'd been in. He dared to hope for a different future — for himself, and for the young people he worked with. Jarrett and his wife founded Lonesome Dove Ranch, a place of healing and rehabilitation for young people who had suffered abuse. The ranch has since made a difference in the lives of thousands of young people.
Like Jarrett, you need to be courageously hopeful about the future. Hope isn't passive. Being hopeful doesn't mean that you're burying your head in the sand and just hoping for the best. Rather, it means that you're aware of the vast problems you face, and believe that by taking action you can help to make things better.
Become a catalyst for change by starting with small actions.
A man walks along a windy beach that is full of starfish washed up by a storm. He sees a boy tossing the starfish back into the sea one by one and asks him why he's bothering. After all, there are thousands of starfish on the beach and the boy can't possibly save them all. The boy replies, "I can't save them all, but I can make a difference to this one starfish." This well-known story about the boy and the starfish contains powerful truths about how activism works. You can't save the whole world, at least not all at once. But you can start somewhere. By leaping into action you will inspire other people to do the same.
When one of the authors, Rob Hoskins, travelled to Lima, he met a girl named Tiffany who lived in poverty with her family. The family lived in a shack, and her father had a serious drinking problem. Rob helped her by connecting her with local organizations and support services. Thanks to that intervention, Tiffany managed to finish high school and even ended up founding her own school for other children in the community. Her leadership inspired her father to stop drinking, and her whole family joined in the effort.
This is just one example of how small actions ripple outwards, creating bigger change than you could imagine. Rob was a catalyst for change, inspiring Tiffany and then her family and community to make a difference. So how can you become a catalyst for change in your own community? Well, start by focusing on your strengths and passions. What are your unique qualities and experiences? Where can you add value to the world? What have you been successful at doing in the past? It's important that you own your dream — that it fits who you are, and what you care about.
Then you need to move from having good intentions to having good actions. Talk, as the saying goes, is cheap. You could spend your whole life pondering how to make a difference. But the real power lies in taking action with a sense of urgency. Don't wait for a perfect plan. You may never know how exactly to tackle the problem. For example, Rob didn't have a master plan for exactly how to help Tiffany. He just knew he had to do something – so he jumped in and took the actions he could think of at the time. You, too, should be emboldened to start somewhere, and learn as you go along.
Once you've identified your cause, you need to recruit a transformation team.


Sam Yoder is a small business owner who was one of many affected by the relentless spread of the coronavirus in March of 2020. As Ohio shut down, he had sleepless nights trying to come up with ways to keep paying salaries for his 100-strong team.
The solution came from an unexpected quarter: A printing company contacted him out of the blue; they asked if his company could help them to create plastic face shields – shields that were desperately needed by medical workers. The printing company had the raw materials, but no staff or production facilities. Sam and his staff needed no convincing. They converted their facility into a mask manufacturing warehouse, and managed to produce 35,000 masks every day. Not only could Sam cover his payroll, but company morale had never been higher as everyone pulled together to make a difference.
This example shows the great power of working as a team. Sam Yoder is an exceptional leader. But he could have done very little without the commitment of his staff and the collaboration of the printing company that donated the raw materials. Together, they made an enormous contribution to the fight to keep medical workers safe against the coronavirus.
Real change always happens in the context of a transformation team. Together, we can achieve more than we ever could apart. But how do you find the perfect people to be part of your team? To start with, you should look for people who are already doing what you're passionate about. There's no need to reinvent the wheel. If there are already great organizations out there, then you can join them and contribute your unique gifts to their effort.
If you can't find the right organization, then you may need to recruit your own. Share your vision with your friends, family, and colleagues. Ask them for feedback and then invite them to join you in making change together. People become motivated by the chance to connect with other people and work on a cause that is bigger than themselves.
Remember that working with the right people is more important than working with a crowd of people. Make sure that you surround yourself with people who share your values, and are willing to throw themselves into working toward a solution.
Passion isn't enough to create a sustainable movement for change – you need clear goals and good leadership.


The Occupy Wall Street protestors were full of passion. In 2011, they spent weeks sleeping in tents in a New York park. They chanted slogans until they were hoarse. They spent hours and hours in meetings and discussions. And their effort inspired a global movement. But the protests soon fizzled out. Why?
Well, in spite of their commitment, the Occupy Wall Street protests never cohered around a clear goal. The protests targeted, variously, concerns about Wall Street corruption, income disparity, global warming, and a long list of other causes. But it's not enough simply to be against something. Real transformation requires a positive goal toward which to work.
As well as lacking a clear goal, Occupy Wall Street also lacked real leadership. That was by design – the movement endeavored to be non-hierarchical and decide everything by consensus. But it meant that the group wasted too much time on unproductive meetings, and had a multitude of cooks trying to stir the proverbial broth with conflicting agendas.
Successful transformation requires good leaders. We need only look at the civil rights movement of the 1960s for a good example. The young preacher Martin Luther King Jr. made enormous strides in fighting racial discrimination through his inspiring and consistent leadership, leading nonviolent protests across the nation that contributed to the passing of the Civil Rights Act of 1964. After King's assassination, his deputy took over. But he was a less-effective leader, and the movement faltered accordingly.
Of course, a leader is nothing without good organization. Any movement requires a backbone of organizational support – be it paid or volunteer – that helps keep all the vital cogs moving. And transformation can only occur when leaders are supported by a grassroots movement. Without that, it will be too superficial to flourish. Just look at the example of Michael Bloomberg's 2020 primary campaign for the US presidency. He threw lots of money at the problem, outspending all the other candidates on his nearly billion-dollar campaign.
But he succeeded in winning only one primary race. There was no widespread grassroots movement fighting for him, so no amount of money could buy the real change he sought. Real change takes place with top-down leadership and bottom-up support. Most importantly, it happens when everyone is united around a common goal.


To change the world, you need to live by good values.


Imagine you're out to lunch with a business leader who has approached you with an inspiring plan for changing the world. You're completely entranced by his ideas and ready to sign on to his proposal when you notice that he's short-changed the waitress. Suddenly, you have serious doubts about collaborating with him.
No one can trust a leader who doesn't have good values. That's why embodying good values is essential for anyone who wants to be active in transforming the world for the better. Every major religion and spiritual tradition espouses one fundamental value: treat other people in the way you would like to be treated. That fundamental maxim should underpin every value you cultivate as a leader. If you put other people's well-being first in everything you do, you can be sure of a successful venture.
But what if you grew up in an environment where those kinds of values were never taught? Does that mean you can never make positive change in the world? Emphatically, no. The great thing about good values is that they can be practiced and learned. Living according to good values is a choice you make every day, not an inherent quality. People who choose to embrace good values can completely transform their lives, and the world around them.
Take this inspiring example from Chihuahua, Mexico. A business leader was doing values training with his employees. When he came to the value of forgiveness, one of his employees, Rene, interrupted him. "I can't adopt that value," he said. Rene's brother had been murdered, and he was determined to hunt down and kill the murderer as revenge. However, the values training still made a deep impression on Rene. Slowly he began to shift his view. When he did finally meet his brother's killer, he ended up forgiving him. His new values allowed him to transform a cycle of violence and destruction into one of healing for both families.
Good values transcend specific circumstances. When they're internalized, they give you a blueprint for all future action. Good values can have a positive impact on every aspect of an organization. For example, Guatemalan bank BANTRAB experienced a growth spurt of nearly 20 percent in their financial portfolio in the years after implementing values training for every member of staff. They were also rated one of the best places to work three years in a row. Valued employees create successful organizations.
The fastest way to create change is through transformational conversations.


When was the last time you sat down together with friends for a good talk? The kind where the food goes cold and the candles burn down while you're discussing life together? Sharing meals is about much more than food. It's about communicating with other people through good conversation. Conversation is a bridge to overcoming adversity and finding a way forward when you feel very stuck. Conversation allows you a chance to see each other's points of views and acknowledge the reality of the situation, even when it feels very tough.
The authors believe so fervently in the power of conversation to effect change that they've made what they call transformation tables a cornerstone of their methodology and teaching. In fact, over 1.3 million people sat around 200,000 transformation tables all over the world as part of the authors' nonprofit work.
But what, exactly, is a transformation table? It's a group of people sitting together to have an intentional conversation about values and how to create change. Starting such a table is simple. You don't need any advanced training or special resources. You simply need to ask yourself, Am I ready to work on myself? And would it benefit others in my community to do the same? If you answer yes to those questions, then just begin. Invite three other people to join you for weekly conversations.
Each week, you'll discuss specific values, and each group member will have a chance to evaluate how he or she is living that value. Everyone will identify areas in which they need to grow or work on something, and then come up with some specific actions they can take in that area. In the follow-up meeting, all group members discuss the actions they've taken. Transformation tables have helped hundreds of thousands of people to bring about change in their communities.
They're effective because they create common ground for people to come together honestly and authentically. The group dynamic also creates a powerful sense of accountability, encouraging members to undertake follow-up actions to which they've committed. And the repetition of the meetings creates space for the work to become ingrained in people's lives. So much repetition means that actions become habitual and start to be second nature for people. Change begins at these tables, and is given a chance to flourish through conversation.
To make a difference, you need to measure your results objectively.


Many activists and leaders evaluate how successful their actions have been by how they feel about them. But here's the thing: feeling good about something isn't the same as doing good. That's something that author Rob Hoskins knows only too well. His team was working feverishly to tackle the HIV/AIDS epidemic in Swaziland, and were sure they must be making a difference. But official figures showed that rates of infections for HIV were actually going up. They were working hard, but they weren't actually having the impact they needed to have.
From that point on, Rob was determined to evaluate the success of his programs objectively to make sure that they were making a real difference. He introduced a system he called the five Ds, which he has relied on ever since. By applying these steps, you, too, can accurately assess the effectiveness of your actions.
The first D is discovery. This is the information-gathering phase of the process. If you're just starting up, then do an evaluation of the field to discover what resources you can tap into. Interview people already working on the problem, and find information on the specific needs of the community you're working to help.
The second D is design. In this phase of the process, you make a plan of action. To do this, you need to visualize what you'd like your project to achieve, and then work backwards. Identify specific steps you'll need to take to reach your goal, and think about how you'll measure their effectiveness. Then make an ambitious but achievable timeline for completion.
The third D stands for deploy. This is the very important stage where you actually leap into action, and get to work. Test your ideas in practice, starting small. This is the best way to learn whether they'll be effective or there's something you need to tweak.
The fourth D stands for document. This phase involves keeping careful records of your activities and their impact. How many people have you reached, and what specific measurable outcomes has your project achieved? Whether online or on paper, documentation forms the backbone of any evaluation.
And, finally, the fifth D stands for dream. Together with your team, reflect on progress made and imagine what's possible for the future.
Now begin again. Assessing impact according to the five Ds is not a linear process. Rather, it's cyclical. Changing the world means constantly reflecting on your progress, and refining your actions.
What I took from it.
In order to change the world, you need to live by good values. Joining a like-minded team whose members hold each other accountable will allow you to sustain powerful work to transform your community. All movements need clear goals and good leadership. Honestly evaluating your progress and creating new goals will help you to stay on track.
Practice the art of telling inspiring stories. If you want to make an effective presentation, try incorporating a vivid story. Stories captivate an audience's imagination. They're sticky and memorable, and inspire empathy. If you want people to be really engaged with what you're saying, then think of a personal anecdote from your own experience that illustrates your point. That will be much more compelling than a dry theoretical explanation.
My Rating